What is the Cost of Dental Veneers in Plainview, NY?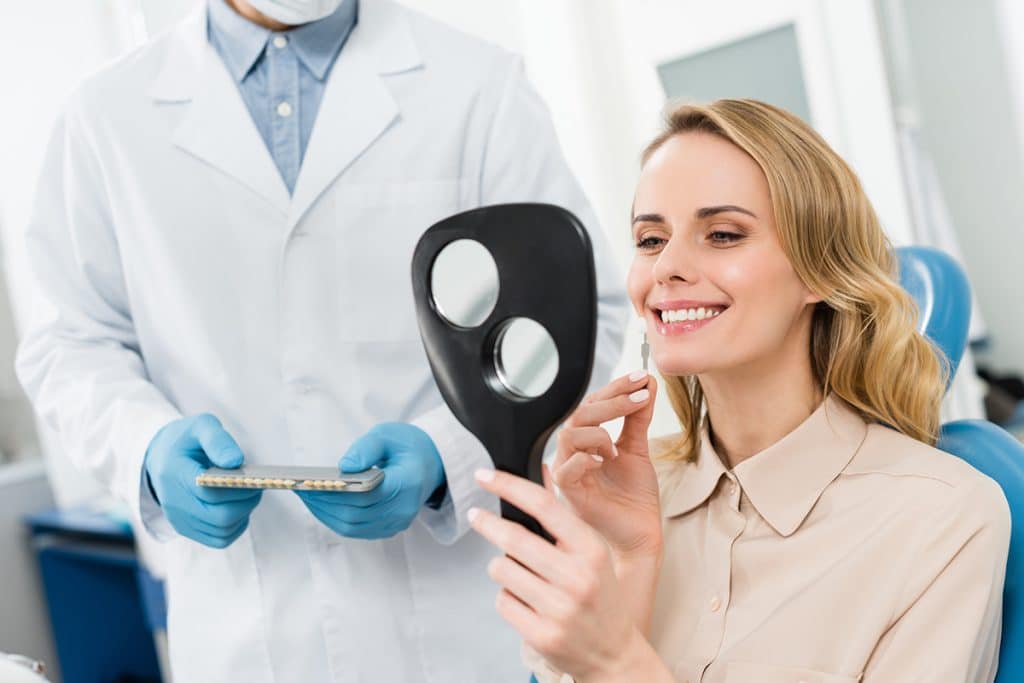 Dental veneers are an efficient, attractive alternative to other cosmetic dental procedures. They can cover aesthetic flaws like discoloration, chipped teeth, and misshapen teeth.
You may be surprised to learn how affordable veneers can be compared to other treatments. In Plainview, NY, and the surrounding area, they cost approximately $900 to $2,500 per tooth for porcelain and $250 to $1,500 for composite veneers.
Dental Veneers
Dental veneers are wafer-thin sheets of porcelain or composite material covering cosmetic flaws. Permanently fixed to the visible surfaces of your front teeth, they create a seamless, attractive appearance.
Veneers can replace multiple cosmetic procedures in just one step. They can cover the following aesthetic issues:
Stained teeth
White spots on teeth
Chipped teeth
Slightly misaligned teeth
Misshapen teeth
Porcelain vs. Composite
You can receive veneers made with two materials: porcelain and composite. Porcelain veneers cost more than composites, but they are more stain-resistant and less prone to chipping.
Composite veneers are a less costly alternative to porcelain, and they are more customizable.
Your dentist may be able to place your composite veneers in just one appointment, compared to porcelain veneers, which typically take two to three appointments.
The Process of Getting Veneers
Getting veneers is easy and comfortable. The first step in getting veneers is a consultation visit. Your dentist will ask you about your goals and the appearance you have in mind. They will explain the process and select the proper shade for your veneers.
Next, your dentist prepares your teeth for veneers. The dentist takes digital or physical impressions of your teeth when designing the veneers. They then remove a thin layer of enamel to make room for the veneer and take another set of impressions.
During your next appointment, the dentist will cement the veneers to your teeth. They will fit snugly and look like natural teeth.
For composite veneers, the dentist often builds them directly on top of your minimally prepared tooth enamel, cutting down on the number of appointments and wait time needed.
Tips for Success With Veneers
Veneers are durable, but you should take some easy precautions to keep them looking their best:
Avoid using your teeth as tools to keep from chipping your veneers
Avoid chewing non-food objects and be careful with hard foods like candy and nuts
With composites, be cautious with staining foods and beverages like coffee, tea, and red wine, since composite resin is less stain-resistant than porcelain
Call The Ricco Dental Group
Veneers can rejuvenate your smile in just a few appointments. If you want composite or porcelain dental veneers, please call our office at 516-931-3999. We can schedule a consultation with one of our expert cosmetic dentists to determine how veneers can perfect your smile.
Recent Posts
Contact Us
The Ricco Dental Group
709 S Oyster Bay Rd
Plainview, NY 11803
Monday | 8am - 2pm
Tuesday | 9am - 6pm
Wednesday | 8am - 7pm
Thursday | 9am - 2pm
Friday | Closed
Saturday | Twice a Month
Sunday | Closed