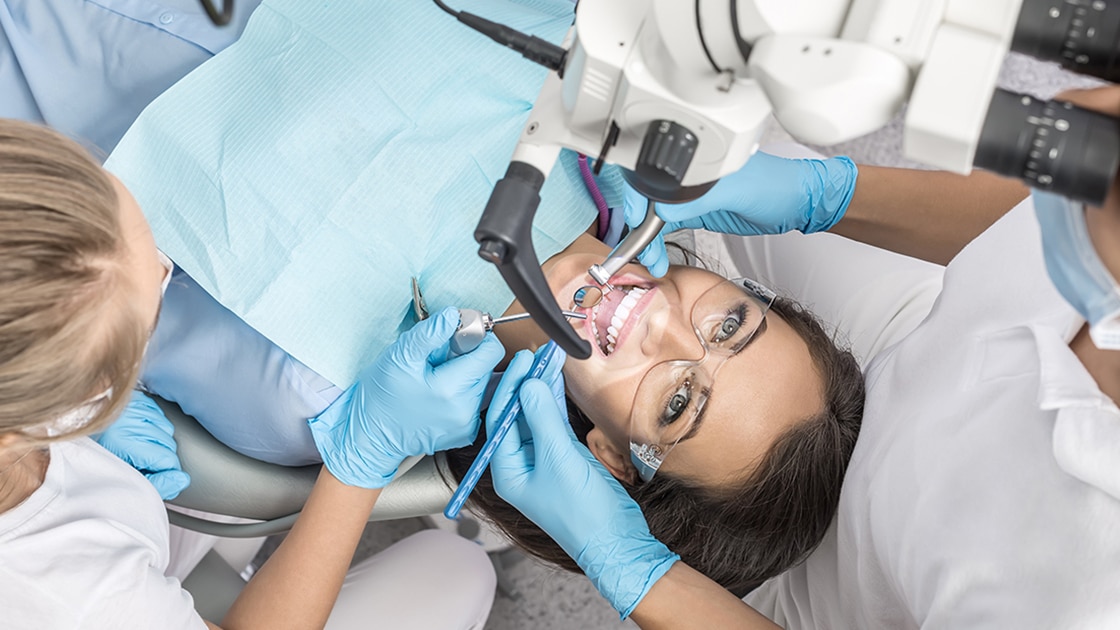 The Ricco Dental Group offers Root Canal Treatment in Plainview, NY. To learn more or to schedule an appointment, call
516-931-3999
.
What is Root Canal Treatment?
Decay and infection can wreak havoc on a tooth. If left alone, it can make its way deep inside the tooth. When it reaches the pulp at the center of the tooth, where you find nerves, blood vessels, and other soft tissues, you may really start to feel it.
Common signs that infection has spread into the center of the tooth include:
Sensitivity to temperature and sugary sweets
Swelling
Toothache
Discoloration
Root canal treatment involves cleaning out the infection and removing the pulp. Once this is done, the tooth will be temporarily sealed to ensure that all the infection has been removed. Upon healing, a permanent crown will be placed on the tooth to fully restore its appearance and functionality.
Benefits of Root Canal Treatment
Perhaps the most important benefit of having a root canal treatment is feeling relief from the symptoms above - as any pain, swelling, and sensitivity will dissipate once the infection is removed. What's more, that root canal treatment can save your natural tooth! Decay eats away at the enamel and the dentin before it makes its way to the pulp. As it continues to cause damage, it jeopardizes the integrity of the tooth. Without a root canal, you will need an extraction. And, since there are no tooth alternatives that are as good as your natural tooth, then a root canal seems like the ideal way to go.
Are You a Good Candidate for Root Canal Treatment?
Someone who is a good candidate for a root canal will have signs that indicate one is necessary, such as:
Jaw pain
Toothache
Swelling of gums, face, neck
Discoloration
Pimple-like blisters on the gums
Injury or trauma to the tooth
Keep in mind that just because you are experiencing these symptoms doesn't mean you must need a root canal as they can indicate other dental issues, too. Be sure to make an appointment with The Ricco Dental Group to have your dental needs thoroughly assessed.
Why Choose The Ricco Dental Group?
Root canal treatment may be a very common procedure, but it involves a very delicate space with a lot of tiny (and often complex) canals. To make sure that the procedure is done smoothly, you need a highly skilled dental team - which is what you will find at The Ricco Dental Group.
Dr. Ricco has extensive experience in successfully handling root canal treatment. And with the support of his team, our patients find the entire experience to be a breeze. We will get you in for treatment as soon as possible and send you home with thorough instructions for aftercare to have the best chance of healing perfectly. Of course, should you need anything along the way, we are always available for you.
Are you in need of a root canal? We are waiting to greet you!
FAQs
To learn more or to schedule an appointment, call
516-931-3999
.